THRIVE IN YOUR
CONSCIOUS BUSINESS
Inside Launch Healers, we holistically weave together the magic of intuition with the grounded business building guidance your spiritual wellness practice needs to clarify your vision, reach more people, have a bigger impact, and create a lifestyle that fits your dreams.
You don't have to do it alone.
My team and I are here to help you unlock your full potential as you build your purpose-driven practice.
I'M READY, LETS DO THIS!
Healers are not necessarily meant to be entrepreneurs.
In fact, for many practitioners, learning every single nuance of how to build a business system is a distraction from what they are here to do: help people.
If you're like the majority of my clients, learning one more web coding sequence, funnel building strategy, social media marketing plan, or advertising skill kind of makes you want to throw the towel in and head back to your 'day job.'
What if you didn't have to 'learn it all' and could still get your message out there? What if you had a road map to show you exactly what needs to be done to lift your vision off the ground and start gaining some momentum?
And, what if you had a team behind you that could help you bring your mission to fruition?!
With Launch Healers, you're not alone on this journey - in our collective, we understand that we go further when we go together.

Maybe yo

u'

ve been trying to:
Fit your mission into the container of someone else's step-by-step processes, templates, and systems that logically make sense or seem to work for others but don't work for you.

Build the funnels and online ecosystem that fits your vision but getting lost in the tech.

Install operating systems to take back your time, but you keep having to pivot how you launch because you haven't landed on a specific or concrete enough vision to start building a sustainable foundation.

Get support in group coaching calls where everyone else seems to be way behind or ahead of where you're at.

Wear all the hats in your business so you can get to a point where you could bring on a team member to help you build this thing out, but get buried in the overwhelm while you wait for someone who isn't even here yet.

Bring someone on to help alleviate some of the stress and share the workload, but you spend all your time (and money) trying to show them what you need yet they don't deliver, and you still end up having to do it all yourself.

Be seen and understood for this level you're truly at and the unique challenges you're facing so you can get help to overcome them. Still, you're labeled as easily distracted, lazy, copping out, or succumbing to self-sabotage patterns when you default to the tasks that are easiest for you to handle on your own…
…but you KNOW that the more details you get sucked into in the day-to-day operation and building of your business, the more off-mission you become…
What you really need is someone to show you how to balance out the rhythms of your time, energy, focus, and resources to get out of this business-building fatigue and back into purposeful impact.
You're likely making things harder in your head than they actually are when it comes to building your practice and clientele by trying to:
learn all the things,
be everything to everyone all the time,
and go at this whole business thing alone.
You don't have to do that anymore, my team is about to become your team!
Introducing the NEW Launch Healers Accelerator!
Launch Healers isn't just another training course or mastermind.
It's the hands-on mentorship you need to become the Leader your business needs you to be!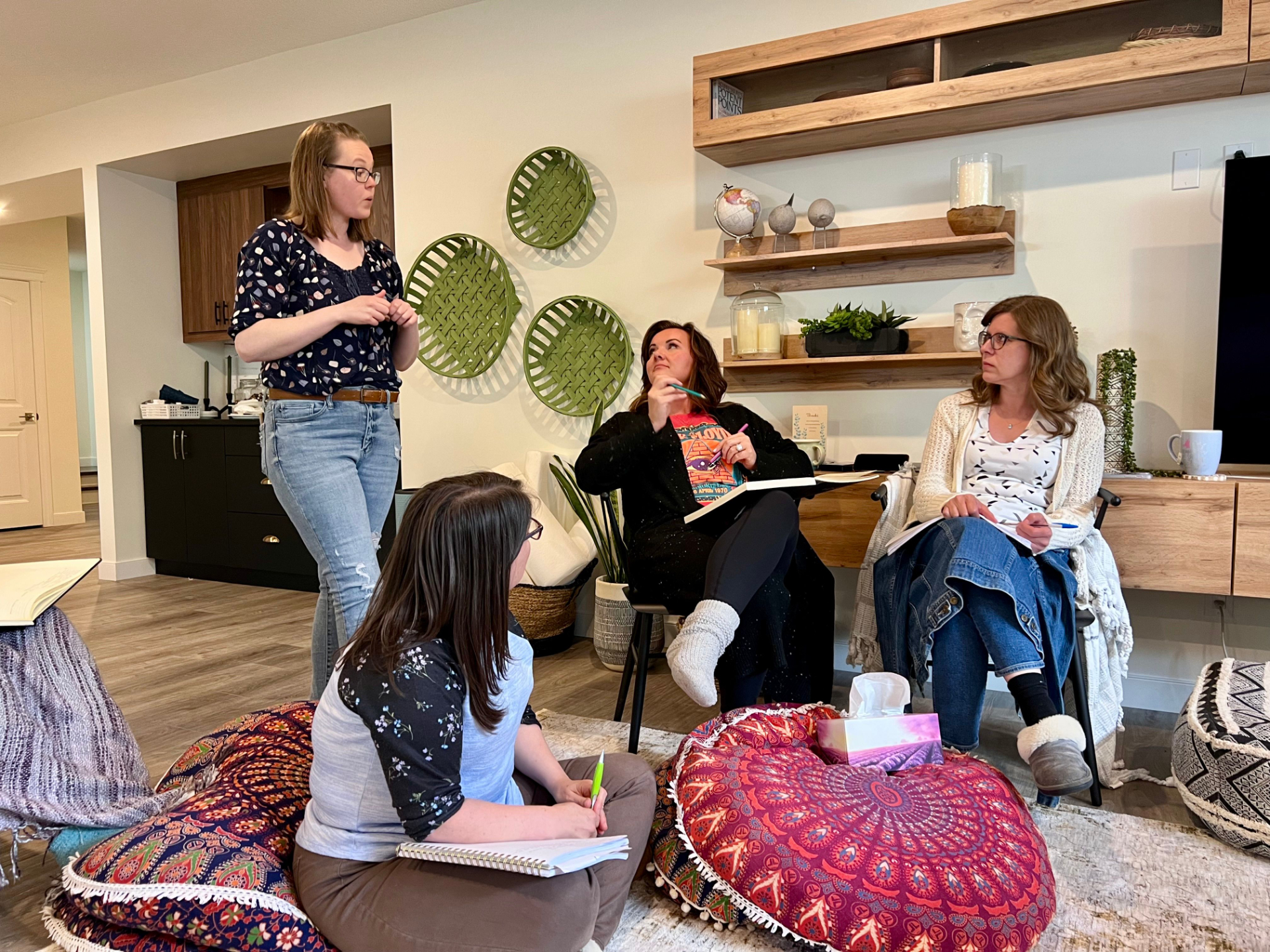 Engage in Weekly Group
Coaching Sessions with Caitlin:
Do you have questions or fears, or just not sure how to move your plans forward? Do you need more clarity on your vision or what you want to bring out to the world?
Are you having doubts or uncertainties, or is something just not making sense?
Whether it's sage advice, a loving you-know-what kick, clearing a block or Akashic issue from the root cause, or channelling through information from your business grid, I've got you!
Our weekly coaching calls give you the ability to work with me to get the answers you need to keep you moving forward.
No. More. Getting. Stuck.
Period.
The Launch Healers Accelerator has
been
intentionally designed for YOU!
We've included all the essentials and skipped the fluff - no unnecessary complications, just pure, focused guidance. With us, you'll find genuine support and clear direction to turn your higher calling into a powerful reality. This isn't just any accelerator - it's your personal path to profound impact.
When you take the leap and join, you get this...



Quarterly Vision & Strategy Calls
With me and my team where we'll audit your business, create the step-by-step system you need to hit your next goals, align your marketing and messaging to expand your potential client list, and help you clear any distractions to stay on track.
A 2nd Secret Weekly Coaching Call
Only for Accelerator Members: to get the targeted support, clarity and answers you need to keep your growth plans moving. Experience 'hot-seat' coaching where we focus on your business and take a deep dive into exactly what you and your business need to grow!
Monthly Content Planning Call
Work smarter, not harder, with our monthly content planning strategy call. We'll show you our tried-and-true system that produces your blogs, podcasts, or video content that speaks to your dream clients and gets them excited to work with you.
Monthly Social Media Planning Call
Social Media should not be taking hours of your precious time (unless you REALLY enjoy it). In these calls, we guide you through a simple planning process and provide templates to help you map out an effective approach that feels authentic, is aligned to your content release plans and the offers you're selling right now, and increases your reach and engagement.
Leadership Retreats
Join us for immersive in-person workshops and retreats where we lean into leadership, learn to amplify our voice, create major shifts in our business structure, call in our dream clients, and have a ton of fun. You'll learn how to vision cast for the year ahead and reverse engineer your plan to hit your revenue and personal growth goals. On-site workshops are completely included with your Accelerator membership!
Audits of Your Content
Submit up to 2 pieces per month and our experienced team will provide you with valuable insights, feedback, and strategic recommendations to optimize your content. Whether it's blog posts, social media captions, ad copy, or email newsletters, we'll help you refine your messaging, storytelling, and overall content strategy to effectively engage your audience and align with your brand's vision.
Ad Sets & Graphics
Each quarter, our team will provide you with one set of written ad copy and graphics to amplify your sign-up or lead generation goals.
Maximize the impact of your marketing efforts (and reduce the headache of coming up with it yourself) with professionally crafted ad sets and visually appealing graphics designed to fit your brand and appeal to your target market.
Personalized Social Media Graphic Templates
Once we've gotten to know you and your vision, our team will design a custom branded pack of social media graphic templates + one eBook template that are uniquely tailored to your brand and audience.
You can use these over and over by simply making a copy of these templates for each campaign you run, and then easily swapping out graphics and text!
The Resource Vault
Contains everything needed to design courses, digital resources and offers, set up email sequences, plan a social media strategy, build a funnel, set up Facebook ads, answer customer service queries, and more! Use our predesigned processes, step-by-step guides, training videos, and checklists to get there faster and with more ease.
This isn't a course; it's a skills lab where you can grab what you need and GO!
It's time to get the support, clarity, and guidance you need to have a thriving practice, just like Kacie.
"I'll be honest with you all, I've been in many different masterminds and business retreats, and this one was right there in terms of quality with ones that I've paid BIG money for (I'm talking thousands of dollars).

So much gratitude to you all, can't wait till the next one [leadership retreat]!!!!!"
The Launch Healers Community
You're gaining access to our exclusive online community, surrounded by Soul-inspired and heart-centered peers working to make the world a better place.
Don't just take our word for it - hear from our community...
Energy work PLUS business coaching is the key!
"Having Caitlin as my business coach has been a game changer for me. It's allowed me to surpass my income ceiling in just 6 months. Before working with Caitlin I struggled with overwhelm and seeing things through to the end.
With Caitlin's help I have been able to prioritize my tasks and get more done, while also addressing the underlying guilt and "shoulds" that used to accompany the overwhelm. That's what sets Caitlin apart from other business coaches. She supports me with the energy work and emotional tools as well, and that's been the key."
Her methods WORK!
I opened my new Tarot community on Kajabi and got 10 SIGN UPS IN THE FIRST 12 hrs!!!
This girl right here …did the damn thing!!!!! I'm so stoked, this really feels like the foundation of something rad and the retreat and the connections, support, guidance and love #gamechangers
I'm so dang grateful … You know what else guys?! I've also nailed some new social growth and organic growth too. AND the magic doesn't stop there!! I have 4 ppl on a waitlist for info about my Tarot Unleashed beta. AND I've had a few new interests in possible sessions!!!!
I'm over here literally #crushingit 🔥🔥🔥🔥
THANK YOU
I'm regularly booking 4-figure clients now!
I am so grateful to have Caitlin as my coach. Her guidance has been life-changing! In no time at all, I went from feeling unworthy and barely charging my worth to now booking multiple 4-figure clients per month! And recently, I surpassed that by landing my first ever 5 FIGURE CLIENT in the process!!
I want to pinch myself because this comes with so much ease now. I have the right offer that attracts the right people to work with me. This is my dream business!
Growing my intuitive business is so EASY!
"Just wanted to say a BIG thank you to Caitlin, Violet and Melissa!! I started yesterday and now have two weeks of planned social media content that all talks to each other and makes sense with what I'll be offering and it all felt sooo easy.
I've totally been one of those "I'll post when I'm inspired".. I'm never going back to that- this is so much easier and I am so excited for what will come from it."
I'm finally making the impact I dreamed of!
"Building a multi-faceted business felt so overwhelming and admittedly, rather scary. I had no idea what I was doing and that stopped me from moving forward, being able to help people and build my dream business.
With Caitlin's innate wisdom, keen eye and solid pushes in the right direction, she has created a space where building a business not only is fun, but perpetually rewarding! I now have a business that allows me to wake up smiling and fall asleep each night with my heart feeling full.
Thank you Caitlin and Violet, I wouldn't have gotten this far, this fast without you both!"
Oh, I almost forgot!
I have some extra little bonuses for you!
1:1 Lifeline Sessions
Get Unstuck!
With Lifeline Sessions, you can cash in a 30-minute coaching call with one of our experienced mentors once per quarter. These sessions provide targeted help in their area of expertise, ensuring you receive the guidance you need to overcome challenges and obstacles that are slowing you down, achieve breakthroughs, and get back on track!
Group Chat Support
Prompt Answers
With our exclusive and private Accelerator Group Chat, you never have to sit in confusion. Get quick answers to your burning questions from me and my team the moment they pop up. If it's a more in-depth question, we'll direct you to take it your next coaching call or one-on-one lifeline session. For everything else, I'll send a quick voice memo to get you back on track.
Meet Your Mentor Team
Meet the dedicated individuals who will be walking this path with you and are here to help you reach your full potential.
I'm your Head Coach and the Visionary behind Launch Healers.
As a serial entrepreneur, I've been growing businesses from $250k to $2.25M since my early 20's. I love the challenge of growing a project from the ground up to watch it blossom into something beautiful.
Our team is here to help you amplify your vision.
When you're second-guessing yourself, adding unnecessary chaos to your plans, or coming off track, we're here to bring you back to center, remind you to follow your intuition, and get you laser-focused on the action steps that will result in more clients, impact, and more of what you wanted by starting a business in the first place.
We know that trying to do this business thing on our own just ain't it.
Violet is the Integrator for our company who can take any clear vision and turn it into actionable steps to make sure the project gets across the finish line and dreams become a reality.
Details and deadlines are her love language. As a bookkeeper and administrative leader since 2011, Violet has worked with a variety of creative and "do-good" organizations, including non-profits and charities.
Marissa is our Chief of Operations who handles the back end of the business, including designing repeatable processes, automations, customer service, and customer experience.
She is an intuitive ninja and organizational wizard, sensing what needs to be done before most of the rest of us notice, maintaining high standards of quality as she works. She quietly keeps the whole ship together.
Melissa is our Growth Team Lead and uses her magic to whip up social media and content that builds connections, community and growth.
She LOVES helping entrepreneurs tap into their unique soul's essence using Human Design to make building an aligned brand easier than ever. Her processes make socials a breeze, which help you take your time back and avoid becoming a slave to the algorithm.
Tauren is our Community Manager who creates the pathways, connections, and frameworks for our students to have a beautiful experience inside of our courses, memberships, and curriculums.
She has a deep passion for merging copy and visuals to create aesthetically pleasing and engaging resources and loves to develop effective funnels that help build brand awareness.
When you have a team that has your back, believes in you (sometimes more than you believe in yourself), and can help you get stuff done in less time than it would take you on your own,
that's
worth its weight in gold!
Access the Power of Teamwork:
The Value of Launch Healers Membership
Building a full-time team took me years and costs me tens of thousands each month.
With Launch Healers, you gain the support of me and my team at a fraction of the time and cost!
It's not just a membership, it's a game-changer for those ready to make an impact.
** Attendance at on-site in-person leadership retreats is included for Launch Healers Accelerator members! Launch Healers Lite members are invited to attend all Launch Healer retreats at an additional cost.
Get balanced guidance that weaves in all of who you are as a spiritual leader, just like Kassandra.
"Launch Healers goes beyond the spiritual fluff and you weave it in. It's not just intuition then business, it's business AND intuition.
For example when I started Launch Healers I also had another business coach masterminding, she did some of the "feminine" like unblocking old belief patterns and thoughts, - you know barely just scratching the surface, and her concepts on business building/creating were the masculine…
but when you ladies went through a trajectory, making decisions through that intuitive process, that was next level! It was both masculine and feminine— And I knew then her coaching model no longer served me."
What's included, and how much is it? How long do I have access?
What kinds of businesses do you serve inside Launch Healers?
Is this only for online healing businesses? What if I want to sell products?
What if I don't know what kind of business I want?
I'm a ____fill in the blank____ , will this work for me?
How do all the Coaching Calls work? What if I can't make it live?
Do I have to commit for 3 months at a time?
There appears to be no open spaces in the Accelerator, what do I do?
What is the cancellation and refund policy?
Still have questions? Email us, we'd love to chat.
In the Launch Healers Accelerator, you're not left to flounder trying to work through endless how-to guides to build your business on your own.
Where you shine best is in holding the vision for a better tomorrow for your clients. Not flying solo to build the structure of your business from the ground up.
We'll work with you to design and implement the business container that allows you to stay focused in your zone of genius while simultaneously preparing for the arrival of the team members who are going to show up to help you take your business to the next level.
Reach more people, have a bigger impact, and create a lifestyle that allows you to thrive.
It's your time to accelerate, Healer!
Alright, Sign Me Up!